Product Overview
Standardized Protein Analysis
We offer a broad variety of products for
a) standardized analysis of distinct proteins in complex samples b) quantitative and/or qualitative identification of differentially expressed protein in complex protein samples.
We are focused on easy-to-use products, saving your time (e.g. fast gel loading, no staining/ destaining) and offering you a high grade of reproducibility. For many protein analyses high sensitivity detection is also required (High Performance Fluorescence Dyes + Imaging). When it comes to protein analysis in a daily routine, we provide system integration for protein separation, transfer, detection and protein analysis data evaluation.
.
.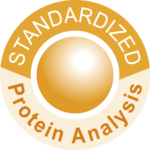 Sample labeling
1D Fluorescence Labeling Kits for
Normalisation of  Western Blots
SPL Smart Protein Layers
.
Fluorescent Standards
MW Protein Standard (Cal A)
Smartalyzer S + L
.
1D Fluorescence Labeling Kits
for Protein Gel Analysis
.
2D Fluorescence Labeling Kits
Refraction-2D