Octoplus QPLEX
Octoplus QPLEX combines fast image acquisition from large multicolor 1D gels and blots (e.g. using Smart Protein Layers) or large Refraction-2D /2D-DIGE gels (20 x 24 cm) or with high sensitivity and the robust setup for daily routine.
 Based on superior CCD technology, high performance excitation of fluorophores, and on a fine tuned filter the system competes with laser scanners however up to 30x faster. Due to its sensitive chemiluminescence detection, the Octopus QPLEX is ideally suited for combined protein analysis by combining RED + NIR fluorescence applications as well as ECL.
Product features
•  high power 4-color (RGB + NIR) multiplex fluorescence detection system. Almost same sensitivity as laser scanners but 30x faster.
•  homogenous fluorescence and chemiluminescence detection of gels and blots size up to 260 mm (width) and 200 mm (depth).
•  very robust sytem with easy handling- suitable even for untrained staff
•  Made in Germany
.
.
.
Fluorescence and VIS Gel Documentation
.
Multiplex Fluorescence & Chemiluminescence
Western Blot Detection
.
Product No.
Description
Price
PR435
Octoplus QPLEX

High Power - Large Area

Quadruplex  Fluorescence (RGB +IR) and

High Sensitivity Chemiluminescence Imager

quote



.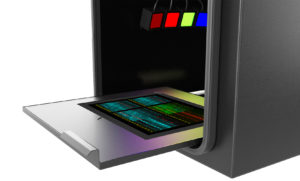 homogenous multiplex fluorescence detection area

("publication level)" for 25 x 20 cm

rapid image acquisition

e.g. SPL Western Blots: 0.2 - 1.0 sec.,

VELUM Gold 1D gel: 1-2 sec.

Refraction-2D gel: 10-30 sec.

high power RGB fluorescence detection for e.g.

G-Dye100, G-Dye200, G-Dye300,

Cy2, Cy3, Cy5, ...

high power NIR fluorescence detection for e.g.

G-Dye400, LiCOR CW800, ...

high power ECL detection

sensitive detection of Coomassie stainings (by red power fluorescence)
remote- and hands-on support
low maintenance
Made in Germany
Overview of Applications (examples)
Multiplex Fluorescence
quantitative/qualitative

1D gels

size up to 250 x 120 mm

quantitative/qualitative

Western Blots

size up to 250 x 120 mm

quantitative/qualitative

Refraction-2D/2D-DIGE

gels and  Western Blots

e.g. for 24 cm IEF strips

Chemiluminescence
ECL detection

(e.g. for the detection

of low abundant

targets)

 
Vis stains
Coomassie-

staining

(detection by red

power fluorescence)
Support
We are happy to provide further information.
Please get in touch with us by phone +49 - 345 -2799 6413 (Mo - Fri 9am - 5pm)
.