SPL Smart Protein Layers
Customized kits for staining free, standardized protein gel anaylsis
The SPL Kit allows to precisely analyze electrophoretically separated proteins without any staining/ destaining procedure. Due to a simple, very convenient fluorescent labeling step prior electrophoresis, proteins can be digitally detected within seconds when the run is completed. The detection sensitivity is at least in the range of silver (1ng and less), the dynamic range is 1,000 fold higher than silver.
Fluorescent SPL Standards included in the SPL Loading Buffer ensure for precise determination of the amount loaded, protein content of the sample and Rf-values of every protein band independent on electrophoretic running conditions between the different samples. In addition, the SPL standards monitor the labeling efficiency, in contrast to other fluorescence labeling kits, SPL samples do not have to be purified prior labeling.
The SPL system is at use in many laboratories for daily routine protein analysis. Depending on your needs we offer customized SPL kits for standardized routine PAGE and IEF analysis.
.
SPL Features
•  stain-free, sensitive, rapid protein detection of PAGE and IEF gels

•  

detection and normalization of the amount of applied sample per lane

•  

detection and normalization of the protein content of samples 

•  

precise quantification of proteins per lane

•  precise determination of Rf-vales independent on separation efficiency /e.g. smilie effect) 
.
.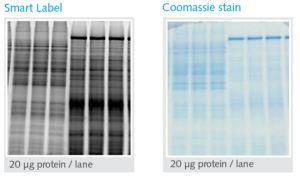 .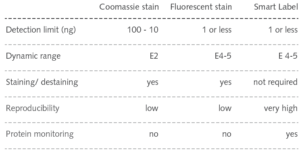 SPL Kits
Product No.
Description
Size
SDS-PAGE/IEF
Required

Fluorescence 

Price
PR902
SPL Red

Kit 40G

400 rcts.
SDS-PAGE
red + blue
299,00 EUR
PR907
SPL Red-IR

Kit 40G

400 rcts.
SDS-PAGE
red + IR
299,00 EUR
PR930
Customized SPL Kit

for SDS-PAGE

on demand

SDS-PAGE

on demand

quote



PR931
Customized SPL Kit

for IEF

on demand

IEF

on demand

quote



.
SPL Workflow
.
1 more step of pipetting - no more staining
Prior electrophoresis the SPL Loading Buffer and the SPL Smart Label are added to each sample. After protein heating (5 min @ 37- 95ºC) the proteins are loaded onto the gel and separated by electrophoresis. After the run, the proteins are detected by fluorescent digital imaging within seconds.
.
.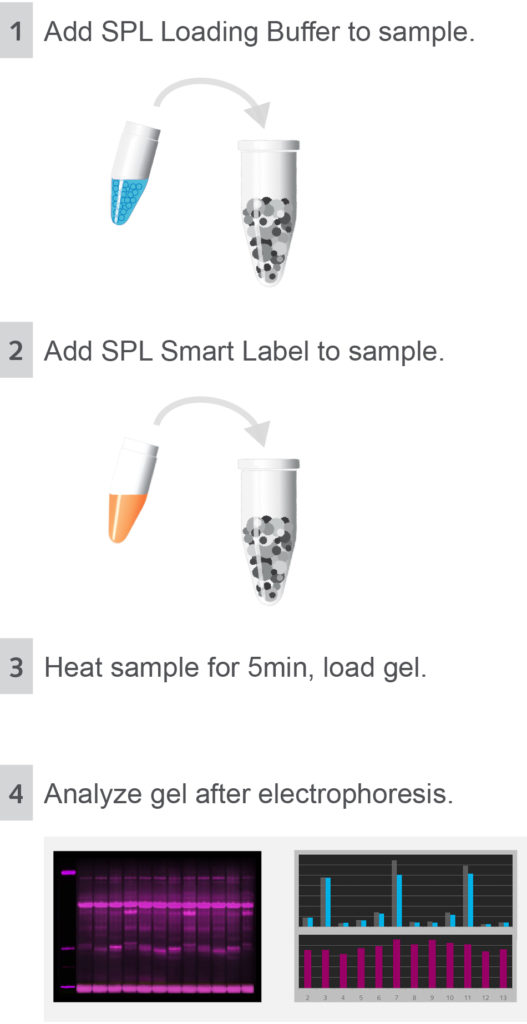 SPL Sensitvity and Dynamic Range
Fluorescent SPL Smart Label show a 1,000 x higher dynamic range compared to VIS-stains like Coomassie or silvernitrate (Fig. 1).  Compared to Coomassie the sensitivity of SPL Smart Label is about 100 x higher (Fig. 2).
.
.
SPL Sample Monitoring and Standardization The combination of Smart Label and SPL Standards monitor and control four different parameters in every sample:

• amount of protein applied to the gel
• protein concentration
• labeling efficiency
• separation conditonds of every sample (Rf-values)

.
Support
We are happy to provide further information.
Please get in touch with us by phone +49 - 345 -2799 6413 (Mo - Fri 9am - 5pm)
.