T-Rex Protein Labeling Kit
Sind Sie auf der Suche nach einer Möglichkeit, Proteine in einem 2D-Gel schnell und ohne Färben, sensitiv und mit hoher Reproduzierbarkeit sichtbar machen zu können?
T-Rex ist ein rot-fluoreszierender Farbstoff, der durch eine kurze Probenvorbehandlung kovalent an Proteine bindet, ohne deren elektrophoretisches Laufverhalten zu beeinflußen.
Nach Fluoreszenz-Anregung (max. bei 650nm) emittiert der T-Rex eine starke rote Fluoreszenz, die einen Proteinnachweis von weniger als 0.1 ng möglich macht (Typhoon FLA 9000). Der dynamische Bereich ist dabei um das 1.000 fache höher als bei Silber- oder Coomassiefärbungen.
Anders als blaue oder grüne Fluoreszenz zeigen Glasplatten, Membranen oder auch Schmutzpartikel keine oder nur eine sehr geringe Autofluoreszenz im roten Bereich, sodass T-Rex ein äußerst günstiges Signal-zu-Rausch-Verhältnis bietet. T-Rex markierte Proteine stellen keine Beeinträchtigung für die Identifikation in der Massenspektrometrie dar.
.
Western Blotting
T-Rex markierte Proteine lassen sich hervorragend von einem Gel auf eine Blottingmembran (0.22 oder 0.45 µm, NC oder PVDF) transferieren. Damit ist das Protein durch Fluoreszenz-Imaging zu jedem Zeitpunkt des Western Blots detektierbar (z.B. nach Transfer, nach Target-Defektion). Für Western Blots kann der Nachweis des Targets  dann mittels Chemilumineszenz, Immuno Blue Fluorescent Substrate oder mit Fluoreszenz-konjugierten Antikörpern  erfolgen. T-Rex beeinflusst nicht die Bindung durch Antikörper.
.
Phosphorylierungs-/ Glykolysierungsanalytik
In Kombination mit einer phosphorylierungs- oder glykolysierungs- spezifischen Färbung ist der T-Rex die ideale Möglichkeit, das Gesamtprotein zu markieren und als interner Standard so eine differentielle Analytik zu ermöglichen. Anders als bei Färbungen des Gesamtproteins wird dabei die Gelmatrix geschont und es gibt keine Schlieren etc.
.
.
Host Cell Protein (HCP) Analytik
Für die sichere Unterscheidung von wirtseigenen und im Wirt rekombinant hergestellten Proteinen ist der 2D Western Blot der Goldstandard. Dabei bietet die Markierung des Gesamtproteins mit dem rot-fluoreszierenden T-Rex die ideale Möglichkeit, das im Gel nach nach dessen Transfer auf der Blottingmembran in höchster Sensitivität (ohne Färben) nachzuweisen. In Kombination mit einem Anti-HCP Antikörper (Fluoreszenz-markiert oder HRP-markiert + ECL) kann dann in einem einfachen, schnellen Overlay die HCP Coverage sicher bestimmt werden.
.
Kitinhalt und Fluoreszenzeigenschaften
Die T-Rex Labeling Kits beihalten 20 einzelne Vials zur Markierung von jeweils 50 µg Protein sowie T-Rex Lösungsmittel.
Filtersettings: G-Dye300, Cy5, Alexa 647
Anregung max.: 650 nm
Emission max.: 665 nm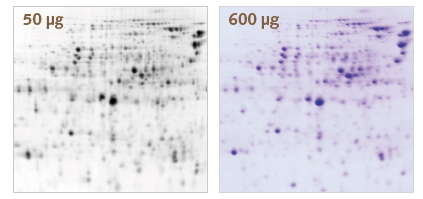 T-Rex labeling vs. Coomassie® blue staining.
50 μg of protein derived from E. coli were labeled with T-Rex fluorescent label. Another 550 μg of unlabeled protein were added to the sample. The proteins were separated by 2D gel electrophoresis. T-Rex was detected with the Octopus QPLEX imaging device by red epi fluorescence excitation. The gel was stained with Coomassie® blue and then re-imaged by white transmission light.
.
T-Rex labeling + ProQ® Diamond phosphoprotein staining.
Two samples á 50 μg of protein were labeled with T-Rex fluorescent label. The two samples were separated by 2D gel electrophoresis. The T-Rex labeled sample proteins were detected by the Octopus QPLEX imaging device using epi fluorescence excitation. The two gels were then stained with ProQ® Diamond phosphoprotein gel stain (Thermo Fisher) and then imaged by epi green fluorescence. The two phosphoprotein images were warped (Delta2D, Decodon) using the T-Rex as internal standard. The arrows indicate differentially expressed phosphoproteins of the two samples.