Protein Services
Für die wissenschaftliche Forschung und industrielle Nutzung bieten wir seit 2008 umfangreiche Protein Services an. Unsere Leistungen beruhen dabei auf der Analyse von intakten Proteinen. Im Gegensatz zu Peptidanalysen (Proteine werden vor der Analytik tryptisch verdaut), tragen die intakten Proteine noch alle Informationen wie
• Protein-Isoformen
• Post-translationale Modifikationen wie
Phosphorylierungen, Glykosylierungen, Oxidationen
• Protein Splicing-Varianten
• pI-Wert
• Molekulargewicht
.
Durch unsere jahrelange Erfahrung und Expertise, unsere führenden Fluoreszenztechnologien sowie durch modernste Labor- und Softwareausstattung können wir Ihnen äußerst hochwertige Analysen anbieten – und das zu attraktiven Konditionen. Dabei bearbeiten wir Zellen, Gewebe und Flüssigkeiten aus humanen und tierischen Organismen als auch mikrobielle und pflanzliche Zellen oder Extrakte.
.
.
2DE Analysenerfahren (Auswahl)
• Refraction-2D (Differential Protein Analysis)
• Saturn-2D (Differential Analysis of Scarce Samples)
• Saturn-2D REDOX (RedOx Status Analysis)
• T-Rex 2D-PHOS (Phosphorylation Analysis)
• T-Rex 2D-GLYCO (Glycosylation Analysis)
• T-Rex 2D WB (2D Western Blot Analysis)
• T-Rex 2D HCP (Host Cell Protein Analysis)
.
.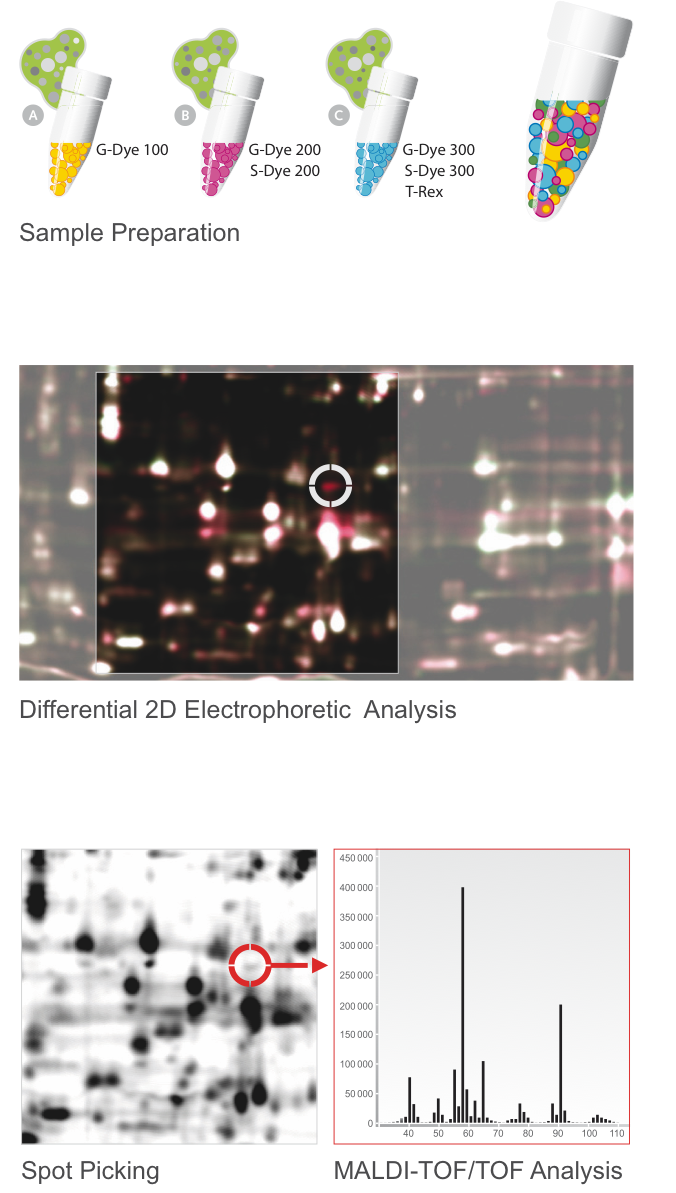 Unsere Technologien
Je nach Zielsetzung und Beschaffenheit Ihrer Probe setzen wir für die differentielle zwei-dimensionale Gelelektrophorese (2D-DIGE) verschiedene Technologien ein u.a.:
.
Für standardisierte Analysen mittels IEF, SDS-PAGE oder SAR-PAGE (inkl. absoluter Quantifizierung) und für standardisierte, quantifizierbare Western Blots von jeweils bis zu 104 verschiedenen Proben verwenden wir die weltweit führende
.
Unser Leistungsspektrum
• Differentielle Proteingelektrophorese (2D-DIGE)
• Post-translationale Proteinmodifikationen (Phosphorylierungen, Glykosylierungen, Oxidation/ Reduktion)
• Identifikationen von Isoformen und Splicing-Varianten
• Biomarker-Identifikation
• HCP Coverage 2D Western Blotting
• Standardisierte and quantitative SDS- und SAR-PAGE, IEF
sowie Western Blots mit bis zu 52 Proben pro Lauf
.
Host Cell Protein
2D Western Blot Analysis
For the production of biopharmaceuticals using host protein expression systems the identification and removal of host proteins is crucial.
The fluorescence-label based 2D Western Blot is the most powerful method for the analysis of host cell proteins (HCP). Here, all cell proteins are pre-labeled with the T-Rex fluorescent label, seperated by 2D electrophoresis and then transfered to a Western Blot membrane.
The following Western Blot analysis and fluorescence/ chemiluminescence detection allows to presicely discriminate the overexpressed proteins from the host cell proteins by anti-HCP antibodies.
The HCP coverage analysis is then automatically performed by Delta2D analysis software.
.
Post-translational modifications
Post-translational modification
Phosphorylation
Glycosylation
RedOx
PTM causes

differences in...

pI (isoelectric point)

molecular weight

and or pI

molecular weight

and or pI

Detection by...

PTM for e.g.

activation/ deactivation of kinases

signal transduction of tumors,

signal transduction upon pathogen reception

metabolism of tumors

important role in Alzheimers desease, diabetis, ateriosclerosis

activation/ deactivation of proteins

tumor metabolism

apoptosis

ROS

PubMed Publications 2016
13,716
2,300
1,149
Pubmed Publications until May 2017
6,834
1,150
543
.
Two-dimensional gel electrophoresis
The principle of 2DE
The two-dimensional gel electrophoresis (2-D electrophoresis, 2-DE) is the most powerful method to separate complex protein mixtures.
It is based on the separation of intact proteins (not peptides) according to two molecular properties: the electric charge and the size of a protein.
The 2-D electrophoresis starts with the first-dimension separation - proteins are separated according to their electric charge, that is their isoelectric point. This step is called isoelectric focusing (IEF).
The IEF is (now a days) performed on a IEF strip, an acrylamide strip containing a pH gradient. When an electric potential is given to the IEF strip, the proteins will move along the strip to that point where their electric charge is 0 (neutral charge). After the IEF, the IEF strip now holds "a line of" the separated proteins according to their electrical charge.
After a step of equilibration the IEF strip is then applied to a SDS-PAGE gel in order to run the second dimension. This separation step now separates the now denatured proteins by their molecular weight.
.
2DE separation capacity
The protein separation capacity is given by
a) the capacity of protein load of the IEF strip
b) the separation area of the second dimension (the size of the SDS-PAGE gel).
For protein extracts from E. coli one should separate about 500 different proteins (e.g. detected by T-Rex fluorescent protein label) with 7 cm IEF strips and mini gel size SDS-PAGE (8 x 10 cm) and about 1200 (e.g. detected by T-Rex fluorescent protein label) proteins when using 24 cm strips and maxi size SDS-PAGE (27 x 22 cm).
.
Protein detection/ visualization
The number of proteins which can be detected is dependent on the method of protein visualization.
The general sensitivity limit is...
• for Coomassie stains: a protein with an abundance of in the range of 100-10 ng can be detected.
• for silver nitrate stains: a protein with an abundance of about 10-1 ng can be detected.
• for fluorescence protein labels (minimal lysine labeling): proteins with an abundance of about 1 – 0.1 ng can be detected*.
• for fluorescence protein labels (saturation cysteine labeling): proteins with an abundance of about 0.1 – 0.01 ng can be detected*.
* adequate fluorescence detection imaging device required
.
Differential Gel Electrophoresis/ Sample multiplexing
The usage of fluorescent protein labels is a strong benefit of 2D gel electrophoresis as the detection limit and dynamic range of the signal is much better and the analysis does not suffer from protein staining artifacts like background issues, difference in results due to room temperature, freshness of stains, etc… .
However, as proteins carrying a covalently bound fluorescence tag (label), they can be specifically detected. This allows to combine many samples to one 2DE analysis to allow for a precise quantification of protein expression and/or the accurate detection of post-translational protein modifications and to dramatically reduce the number of required 2D gels.
.
Weitere Informationen/ Preisanfragen
.
Analysis "Get an Idea Level"
Dies sind i.d.R. kleine Experimente, die Ihnen einen ersten Eindruck ob der Möglichkeiten verschaffen.
.
Analysis/ Study "Publication Level"
Diese  Experimente/ Studien ermöglichen die Identifikation von signifikant differentiell regulierten Proteinen in Proteomen / Proteinproben.
.
Für Fragen, Informationen und Preisangebote setzen Sie sich mit unseren Service-Team in Verbindung:
service

dyeagnostics.com
.